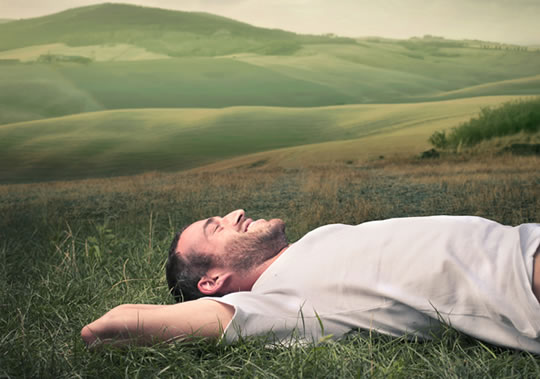 Image from PsyBlog.
No, you do not disappear from the face of the earth or from people's eyes. It's your old self that disappears totally. They don't see the old you anymore---but you're still there, living a new life as a real new creation in Christ. Since all of the old you is gone, it's no longer you who live but Christ. So, in a sense, they don't see you anymore. They see Christ in you.
I Live By Faith in the Son of God

Some believers think they live by faith in the Son of God. But what they often mean is, they have faith in what their denominational doctrines say about Jesus and Christianity. It's totally different when you genuinely live by faith in the Son of God. Your faith is based on the Christ revealed by the Holy Spirit as you meditate the WORD. Church teachings should all be sourced this way---direct revelations from the Holy Spirit, not by the doctrinal preferences of their denominations.
Being in Christ or God's flesh is living by faith in Jesus. Sounds obvious, doesn't it? But it isn't so obvious most of the time. Once your old self disappears in people's eyes, your only job is to live a life of faith in Jesus. This means moment by moment feeding on the Word of God spoken directly from the Father's mouth. It's not something you get from man or his bible schools or institutions or from professors there. Neither is it something you get from your own insight.

It's Jesus' own flesh and blood---the spoken WORD---which the Spirit feeds you himself not just daily but each moment. You eat it. You breathe it. All of life revolves around this faith in the Son of God---and faith comes only by hearing, and hearing the spoken Word of God. Man is designed to live by every Word that comes from God's mouth.

You go about daily life in this faith. You see life and livelihood and your relationships through the eyes of this faith in the Son of God. You don't do, think or say anything outside "the life I now live." You and your wife and kids live under the same principle. People identify you with this God's flesh, faith-in-the-Son-of-God kind of mindset. In fact, in people's minds, you have become narrow-minded; everything narrowed down to this thing you call "the life I now live."
Simple and Narrow Ministry
God's flesh principle teaches you that ministry should all boil down to this---it's no longer I who live but Christ who lives in me. Ministry is not what men have been making it out to be. Church activities, programs, church anniversaries, Christmas programs, Easter services (I call it Resurrection service), evangelism, fellowship, and the like, are all nothing but garbage if they are not centered on "this life I now live," if they are not done with the truth that it's no longer you who live but Christ.

It's Christ doing the ministry in you, not you. If anything in church is done outside of this truth, it loses any meaning. It turns into garbage. Thus before leaving, Jesus told the disciples not to do anything except wait for the Gift the had Father promised. If they went on doing ministry without that empowered LIFE poured by the Holy Spirit, everything would be useless. But church today has lost this principle. Anybody can be involved in ministry, even members soaking in sin, as long as they have the skill and ability. As long as they have leadership.
Some pastors do this to give a "second chance" to their members wallowing in sin. Who knows, they may be encouraged and enlightened as they do ministry and perhaps come to their senses and repent. But this is pure human supposition. The second chance sinners should be given is sit down in church and listen to the Word until they repent. The disciples were all given such second chance.
They all failed Jesus the first time. They hid when Jesus was apprehended. Peter denied he knew the Lord. Judas betrayed his Master but he forfeited himself of his second chance when he hanged himself. They all failed and sinned. Now, in the upper room, they were given a second chance---not to do ministry but to sit, wait and pray. They were told to do no ministry until the Holy Spirit came on them. This is the biblical second chance.
When I was a youth in church, young people who took prohibited drugs were allowed to sing in the choir to "encourage" them and give them a "second chance." The intention was good but the principle is not found in the bible. Man's ways are dead ways.
It's a Jesus Ministry
Take evangelism, for instance. It should be Jesus in us doing evangelism. People come to genuine repentance and surrender to God if they see and hear Jesus in us sharing the Gospel. If it's not Christ in us doing it, then we'd resort to coercion, using our own efforts and strategies, pestering people with our follow ups or forcing them to attend church and become members. We won't rely on the Holy Spirit but on evangelism techniques and strategies we learned somewhere. Churches today bribe or coerce people by giving them positions and power in church, luring them with attractive activities where they'd feel useful, admired or applauded. It's bribery. Jesus and the Acts church NEVER used these worldly schemes.
"In him was life, and that life was the light of men." Men should see the LIFE in us. That LIFE is the light of men. If they don't see the light in us, all our evangelism efforts and resources are garbage---no matter how biblical or well trained we are---even with all the titles and degrees. True evangelism is simply people seeing the Life in us. And then we let them decide--he who has ears to hear, let him hear.
This was how Jesus did evangelism. No dogged follow ups or pestering home visitations. These just pressure people into attending our churches and then later becoming active members. Of course it's effective. Of course it produces members and even mega churches. But any human effort like this produces carnal churches, having the reputation of being alive but are dead.

Abraham thought God's will was possible through human efforts. But it resulted to Ishmael who would always be fighting his brothers all his life. With God's will, you have to wait for God to act. Only God can accomplish God's work. All we should do is let God do it in and through us using his WORD.

Very few churches, if any, would accept the genuine Jesus ministry. Few would seriously take the narrow road that leads to the narrow door. The Narrow Door lets in a few people at a time, not bulks of people. But churches today want the grand and spectacular---the kind the world applauds. The world will always scorn and persecute genuine Jesus ministries, the kind where "the life I now live" is always narrowed down to living by faith in the Son of God---never by works. It's not about being applauded by the world. It's about being faithful to what God wants.
The "life I now live" is an extremely simple one, characterized by minutely giving up everything on every level of faith you are on. I know some "missionaries" who live very luxurious lives, living in mansions here. Praise God for their comfortable lives, but that's far from "the life I now live" (or being God's flesh). The LIFE is having God's favor---while being poor in spirit. Not really being impoverished but living Christ's radically simple LIFE, "the life I now live." Faith in the Son of God is always hinged on being poor in spirit, Jesus' first Beatitudes teaching.
Man is oriented towards gaining. Thus, even ministers scramble to gain acceptance and position by getting titles and degrees. They work hard for these. If you are respected in the world, you gain more attention, gain more people and members, and gain more income.

But "the life I now live" concept is oriented to giving up everything. It is being poor in spirit. Faith in the Son of God really means losing everything to gain the LIFE of Jesus. "I have considered everything garbage that I main gain Christ," says Paul in Philippians 3.

Hence, if you think you're so blessed that you keep gaining materially, you may be wrong. You may have been deceived by the enemy. To live is Christ, to die is gain. In the same way, if you're so poor and you think you're living the LIFE because of your poverty, you're missing a lot. When you give up everything, God favors you to possess all things.